Doreen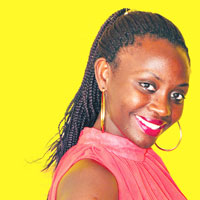 Doreen is a God-fearing woman and proud to be a Mukiiga. She is a free spirit, more like what you see is what you get – take it or leave it.  She loves to laugh and joke away. Doreen can sometimes be skeptical and self-aware, sometimes too cautious about herself, and quite concerned about her appearance.
On the whole though, she is humorous, kind and one who empathsises with people. Doreen is a lover of beauty, very trusting and loves to chillax, sing, swim, read, watch movies and party. She may come off as tough and quiet but she is friendly so all you have to do is say, "hello" and you will get a good conversation going. You only need to catch her on the Saturday Breakfast Bonanza from 6.00am to 10.00am to find out.
Phyllis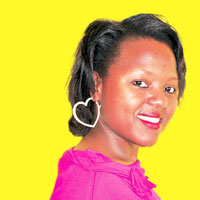 What most people don't know is that Phyllis is an accountant by profession, turned radio presenter because of the love she has for radio. So although numbers is what she studied, she decided to settle for what she loves. After a few years as a radio presenter, she left to do business but one year down the road she was drawn back to radio.
Phyllis loves music. One of the reasons she really wanted to work at KFM was because of the kind of music the station played. KFM was one of her favorite radio stations as a listener. Which is why she is super-happy to be a presenter, taking you through the midmorning on K-Connect from 9.00am to 12.00pm. It makes her feel good to realise that in life, we can get what we want if we put our passion and mind to it.
Phyllis is a loving person, formerly shy but because of the nature of her job is now outgoing. She loves having fun, and sleeping a lot as it makes her feel good! She also loves watching series, cooking and baking cakes.
She likes looking beautiful and is obsessed about keeping her waist small. Her favourite food is g.nut sauce mixed with dry fish and kalo. If she were food, she would want to be roasted g.nuts, crunchy and tasty. The lady is also obsessed with g.nuts!
James Peterson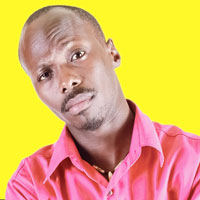 93.3 KFM's K-Drive host James Peterson is a lively, out-going guy with a bizarre talent for rubbing people the wrong way.
What most people don't know about James is that he started out as a rapper in his teens in Riverside County, California where he was born. One thing led to another and he's been "in-total-control" of the airwaves… Seriously. You need to listen to him from 4.00pm to 6.00pm every Monday to Friday. As for the celebrities he's interviewed, there are many! These include the likes of Rihanna, Dwayne "The Rock" Johnson and Kiefer Sutherland (Jack Bauer) – probably one of the hardest interviews he remembers doing, so far).
James has also interviewed politicians like, Jacob Oulanya, Kizza Besigye, Olara Otunnu, as well as local and regional musicians Kevin Wyre, AY, Nazizi, Peter Miles, Cindy and Angella Katatumba. When James is not behind the mic, he is helping his dad Simon Peterson with audio production at their Radio Active Production studios. James also dabbles in a bit of writing for The Daily Monitor.
So what drives James? Well, a passion to talk and be heard. But that does not beat his passion for music, so much so that he would rather talk less and play more music (which he views as a form of escapism from the daily troubles of the world).
Outside the radio world, James loves movies, and there is a special place in his heart for video games. It's often said he will probably die with a controller in his hands. He also is pretty much addicted to electronic gizmos and a desire to find the ultimate expression of freedom and creativity.
Freddie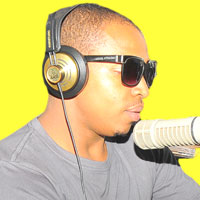 Freddie Sakura is an actor, dramatist and public speaker/MC, but is best mostly known for hosting the award-winning best English afternoon radio show in Kampala (RTV academy).
Born Mwebaze Fred Sakura in Bushenyi District, this enthusiastic radio presenter has been ruling the air-waves for 15 years dedicating almost nine to the KFM afternoon show that has had its name changed thrice from THE EDGE, to WAZZ UP and more recently to D'HOOK.
As soon as it clocks 12pm Freddie (the HOOKMASTER) hooks his youthful fans into his world of radio cash games like the Brain Buster; the entertaining talent search Sing for Cash; the highly interactive Chatroom with real life stories and situations; accurately researched nutrition info on K-Chef; the hooking celebrity gossip PopLyfe; crowning the electric show with Kfm Sports and your social pulse The K-vibe where you hook up on the exciting places to chill in Kampala and the events to look forward to. His favourite quote? "Hardship often prepares an ordinary person for an extraordinary destiny," by C.S. Lewis
And his philosophy? The moment you stop trying to become a better person, you start to become worse than what you already are.
Ben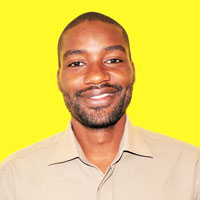 Ben Mwine discovered his passion for entertainment back in high school when he started DJ'ing at high school events.
While studying Computer Science at Makerere University, Ben joined Radio One, starting as a part-time presenter on the weekend and has gone on to entrench himself as one of the titans of the radio industry in Uganda with a career now spanning almost 15 years. When he's not on radio he's busy preaching, being an events manager or MCing at top events around Uganda.
He's an avid sports fan, playing tennis every week and supporting Liverpool and the Uganda Cranes on the football pitch. Catch him on 93.3 KFM every Saturday on the Saturday Breakfast Bonanza show and Sunday on the Heart and Soul show, from 6.00am to 10.00am.
Sean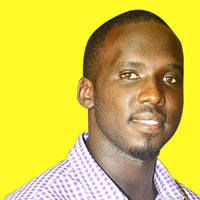 Sean Solomon Oseku is a passionate old skool fan and loves what he calls soft music, and what we call jazz. He's a patient person, something many don't know, and he loves children. Sean spends most of his time at home, when he is not working. His hobbies include sleeping and eatingJ. He loves to drive fast (yes, we mean racing), play rugby, basketball and soccer. He supports Juventus and Manchester United. Basically he is a good person who loves God. To find Sean on air, just tune in in the afternoons where he will be bringing you some cash or giving you the latest gossip in town.
JAQ DEWEYI
Jaq Deweyi (Jackie Namataka Deweyi) is a journalist by profession. She was a student of Procurement and Logistics at MUBS when she dropped it in her second year because she was bored!  She then studied journalism and later joined radio. Now you can spend the evenings with her on K-Zone in the evenings, from 8.00pm to midnight.
As a young girl, she had always wanted to be a presenter on radio and to sing. And now, she is a singer and song writer influenced by contemporary African Musicians like Brenda Fassie and Angélique Kidjo. It is why Jaq sings in her mother tongue Lumasaba.
Jaq is also a TEDx Speaker and an ambassador for Hepatitis B in Uganda, a role she accepted because as an artist she wanted to sing about hope and change lives.
On the weekends, she enjoys giving motivational talks in schools and also emceeing or performing at different events. Something people don't know about her is that she is also an actress. Her favourite food? Matooke and malewa. Yup, she is proud to be a Mugisu.
PATRICK KANYOMOZI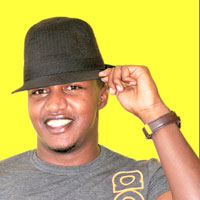 Although he studied a Bachelors of Commerce degree at Makerere University, Patrick did not get into radio by mistake. He knew he wanted to be a radio presenter right from childhood. Even when his parents forced him to study Commerce, he knew deep inside that that was not where he belonged. And so he found his way, behind the mic in the studios where he is now happy. Patrick loves sports, so much, sometimes it scares him. For real. He watches a lot of sport, both on TV and the games on the local scene. Basically his life is incomplete without sports.
What most people do not know about him though, is that he loves music and movies almost in equal measure (as sports). He watches lots of movies and series, and listens to lots of music as well (he has a huge music collection). He is also very interested in current affairs, politics and business which is why he can't go to bed without a dose of BBC, CNN, Al Jazeera and Sky News.
He is a naturally happy person and always wants to make people around him happy. Some people say he is funny but he believes he is just a happy man. He is however really shy, especially around people he doesn't know. He is a social media freak too and you can't miss his presence on all the platforms, @PatriqKanyomozi on Twitter, patriqkanyomozi on Instagram and Patriq Kanyomozi District. Lastly but most importantly, he is a God-fearing person.